Kowalonek's Kielbasy Shop
332 S. Main St
Shenandoah, PA 17976 (Google Map)
Open Tuesday through Saturday
Phone: 570-462-1263
Our family has been eating the Kowaloneck's fresh and smoked Kielbasy (or "Kilbo" as we call it) for three generations. Kowalonek's Kielbasy Shop is located in the small town of Shenandoah, PA. Shenandoah is a small coal mining town located in east central Pennsylvania about an hour from Harrisburg on the I-81 freeway.

Kowalonek's (pronouced KOV-EL-EN-ICK) Kielbasy Shop has been a family run grocery and sausage shop since 1911. They have almost 100 years of experience in making authentic Kielbasy including fresh Kilbo and smoked Kilbo. Their signature product is fresh Kielbasy Sausage. They don't accept mail, phone or internet orders. You have to go and visit them to purchase the foods they produce.
And that's exactly what happens. The Kowalonek's Kielbasy Shop is widely known in the region, and people travel for hundreds of miles to visit their shop and buy the quality sausage they make. The Kielbasy starts with fine grades of ground pork which is mixed with their special recipe of spices and herbs, and then stuffed into natural sausage casings. Their smoked Kielbasy is naturally smoked using a mixture of hardwoods.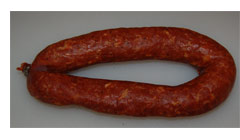 Besides making the Smoked Kielbasy and Fresh Kielbasy, Mark and Paul Kowalonek also make a variety of products from the Kielbasy Sausage meat. This products include Kielbasy Loaf, a sliced luncheon meat made from baked Kielbasy meat; Kielbasy Jerky, a "beef jerky" like snack; Kielbasy Griller's, a Kielbasy substitute for hot dogs; and Kielbasy Burgers, a hamburger sized patty of Kielbasy meat that can be grilled or fried.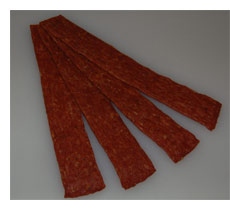 The Kilbo Jerky is a great tasting product. It's not dry like beef jerky, and a stick of the Kielbasy Jerky is a great way to hold off the hunger pains while driving home and making your Kilbo dinner. Since the Kielbasy jerky has been cooked, it's a little drier then fresh Kielbasy, and has a texture like that of beef jerky just a little moister. The Kowal's have done a great job in making this jerky with it's resulting beef jerky like shape and texture. Pick up a few of these for your way home.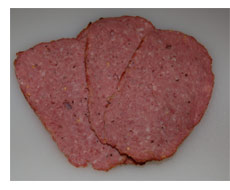 Kowalonek's Kielbasy Loaf is a great tasting lunch meat made my baking the Kielbasy Sausage meat, and then slicing thin on a commercial meat slicer into thin slices of lunch meat. If you want, you can buy the whole Kielbasy loafs and take them home to slice yourself.
You can use your imagination with the Kielbasy this company makes. An excellent way to cook the fresh kielbasy is to place the sausage frozen on a grill and cook until done. The result is similar to smoked kielbasy. Fresh and smoked kielbasy adds great flavor to bean soup. Use Kilbo loaf on breakfast sandwiches like your would ham, so you end up with a Kielbasy and egg sandwich.
Where to stay and dine
If you're traveling by Frackville on the I-81 freeway, a great place to eat and stay is Granny's. They serve homemade foods that you won't find anywhere else like pork chops. Nice friendly service too. Granny's is located right off of the Frackville exit and is on the way to Shenandoah. Bring your cooler, ice down the Kielbasy, and spend the night at Granny's.