There was a time about 15 years ago when I had trouble with a new car, and had it in for service. When I went to pick it up later that day, it seemed to me that all of the customers picking up cars were arguing with a service writer. It hadn't been very long since I went through the ordeal of shopping for a car and dealing with two car dealerships. I came to the conclusion at that time that the car industry needed a shakeup, that they didn't care about customers expectations, and I dreaded the day when I'd have to buy another car.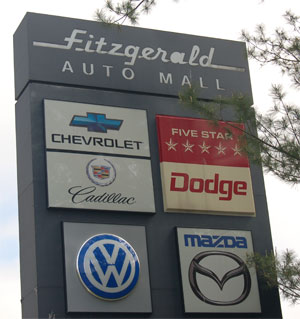 However, not all car dealerships are the same. When the time came to purchase a new car, we went to the local Chevrolet dealership in Frederick, MD. It's one of those mega dealerships where they sell many brands of cars at one location. This store is called the Fitzgerald Automall. Since that time, we have purchased 4 vehicles there, 3 from the same sales consultant, Craig Johnson.
What sets this dealership apart from any of the 10 or so I've had encounters with over the years is their focus on Customer Satisfaction. Everything from pre-sales to post sales to service is on the straight and up. There are no hidden fees, no haggling over the price, they're patient, informed, and simply want to make a good deal.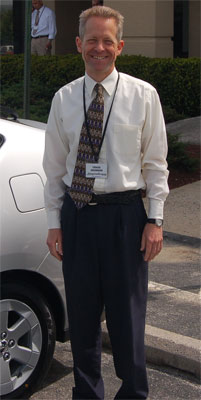 One of the most unpleasant experiences for most people is the trip to the car dealer to buy a car. I can state with certainty that is not the case at Fitz-Mall. Pictured here is Craig Johnson, the Sales Consultant at Fitz-Mall that we have purchased 3 cars from, 2 Chevrolet's, and 1 Toyota (incidentally, the Frederick Fitzgerald Automall doesn't sell Toyota's. Craig had it brought in from another dealership of Fitzgerald's located 20 miles away).
We met Craig right after our car was totaled in an accident. We were looking for a vehicle that could tow our RV trailer better than our prior vehicle. For about 10 days we talked with Craig, looked at the options he researched for us, and finally choose the Chevy Avalanche. We still have this vehicle today, and it was the correct vehicle for us to buy to replace our Chevy Blazer which didn't really have the proper suspension for towing a large RV trailer.
A few years later our Pontiac Bonneville was aging. Even though it ran reliably, with no major problems ever, the 360,000 miles on it were finally taking their toll on the car and it was time for a new car. We again visited Fitz-Mall, Craig showed us some small 2 door, and small king cab pickup trucks that we thought would fit our needs. In the end, though, we purchased a standard Chevrolet Blazer (not the Trailblazer) because there was more utility in having more enclosed area for carrying products for our business. It was a very smooth transaction, pleasantly and professionally handled by both Craig Johnson and the business office.
With fuel prices rising, we decided to get a Toyota Prius. We contacted Craig, and asked if he could sell us one, even though the Fitz-Mall he worked at didn't offer Toyota's. Craig was able to arrange for a Prius to be shipped to his location in Frederick, and have all of the paperwork prepared and signed at Frederick. He even came in on his day off to do this. We bought our Prius this way because we are comfortable with Craig, and have become somewhat casual friends along the way. Occasionally, I'll stop by the store and visit Craig, sometimes I bring him some honey from our bee hives. There aren't too many car sales consultants I've had such pleasant dealings with that I'd ever consider doing something similar with. Oh, that's the back of our new Prius Craig is standing next to. A magic car and Craig's first Toyota sale.
Some other reasons to buy from Fitzgerald Auto Mall
Besides being treated comfortably, here's a short list of reasons to buy a car at the Frederick Fitzgerald Auto-Mall:
No-Haggle Pricing – The prices are on the car and are at dealer invoice. Sure, you could probably haggle with another dealership for 10 hours and save a few hundred but there is something to be said about honest, comfortable, and pleasant handling of a sale.
The Sales Consultants are knowledgeable and are not pushy.
You get a free loaner car from them when you take your car in for service.
Every other oil change is free.
The service department is operated professionally too.
Parts Department is well stocked and pleasant to purchase from.
You get a coupon for $50.00 off your next car purchase — and they honor it without question.
You can shop for cars online at www.fitzmall.com, see the vehicles they have in stock, what's on order, and see their prices [and yes, they are the real prices]
How about this — They're Honest
When we bought our third vehicle from Fitz Mall (our second from Craig Johnson) they accidently mis-calculated the vehicle registration fees. We were pleasantly surprised to find a refund check for the overpayment in our mailbox one day. I think most car dealerships would have pocketed that money.
This is a very large car dealership, which is part of a larger organization, so it's a significant player in the Washington DC – Baltimore local car market. The owner was interviewed this year on NPR about the troubles in Detroit and to paraphrase Jack Fitzgerald's response "they're too far separated from the customer." Here is a direct quote from that interview:
"(If) we don't take care of our customers, we don't stay in business, and the problem with Detroit is they are insulated from that," he said. "The union leaders don't have to take care of a customer with a complaint, and management doesn't have to take care of a customer with a complaint, they leave that to people like me and the people that work in my dealerships."
Jack Fitzgerald
See or listen to the complete story: 'Project X' Marks Chrysler Restructuring Bid on National Public Radio.
So you can see that from the top down in this organization, their focus is on the customer.
Having purchased 4 cars from Fitzgerald's Auto Mall we have had positive experiences and with almost all parts of the company. From Sales to Finance to Parts to Service to Body to the free rental cars, the Fitzgerald Company employs pleasant, happy people whose job it is to just make things work. These folks, while out to make money, aren't out to get you. They say what they'll do and they do it — without exception.