Maryland Coast Dispatch
The world of newspaper publishing and news generally is in a state of fluctuation these days primarily because of the internet and it's focus on instant, breaking news. While you may consider the next statement old fashioned, I don't think there is really all that much news and information that has to be reported instantly. The more important news is that that must be absorbed and thought about carefully. Sure, if there was a house nearby that exploded, it would be nice to know about it sooner rather than later. Yet, we wouldn't be getting that type of information as breaking news from CNN. We'd get it from the authorities or by simply hearing the sirens from the emergency equipment. I think that the endless repeating of 10 second video clips on CNN is doing a dis-justice to the journalism industry.
This same style of little news with lots of advertising are also attacking the print newspaper industry. At one time, there were about a dozen locally published newspapers in the greater Ocean City, MD area. Now, all of those except for a few are owned and published by one large media company. That unnamed company has degraded most of those papers and fills space with content from syndicated sources instead of with local news that these papers were known for.
Thankfully there are still a couple of independent publishers of local news for the Ocean City / Ocean Pines resort areas and when I visit on my many trips to the area each year I seek out these two jewels that remain and produce unique local news.
The Maryland Coast Dispatch is a local treasure that is packed full of local news written by local journalists. It covers lots of information of interest to both the visiting tourist, the local resident and the second home owner that lives elsewhere most of the time. This includes politics, the local environment, local development, Ocean Pines community information, Ocean City tax and municipal ordinance changes, town council meetings, as well as news from Berlin, MD. All of this comes for free too. The Maryland Coast Dispatch is not a home delivered newspaper. Instead, it's distributed like most of the other news at the resort, and is found in free newspaper stands located at stores, shops, and cafes in the Worcester County area.
But the Maryland Coast Dispatch shouldn't be confused with many of the other papers that are simply stuffed with advertising and repetitive lists of local restaurants. Each week The Dispatch is packed full of unique, locally researched and written stories about living at the beach resort and surrounding areas. The writers are local folks that know the area and they create interesting articles. It takes a lot of time and effort to find, research, and write news for a newspaper each week. I think that should be rewarded, so if you visit the beach at Ocean City, MD this year, pickup a copy of The Dispatch, and read about the news and happenings in the area. And if you visit a restaurant or business that you found by reading an advertisement in The Dispatch, be sure to mention this to the business so the advertisers know that you read and enjoy the paper and that their support for this quality newspaper is worthwhile.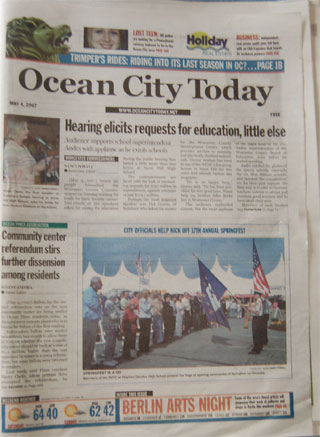 There is another locally published paper, Ocean City Today, that also is top quality and is also packed full of local news and interests. It's published at the beach by beach folks, and has a nice wide range of news features.
So when I stop at a store, the two local papers I pickup are The Maryland Coast Dispatch and Ocean City Today. These are two locally published papers that are worth reading for quality local news from Worcester County, MD. Most of the other papers are simply repeated syndicated news from other newspapers. And in my opinion, and since this is what this blog is about, we ought to be rewarding those establishments that produce good products and services.
Best of all, both of these weekly newspapers can now be read on the web:
Maryland Coast Dispatch
Ocean City Today