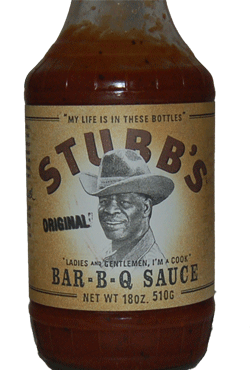 One of my favorite Barbecue Sauces is Stubb's Original Bar-B-Q Sauce. Even though it's made in Texas, the flavor is that of a Carolina Vinegar based barbecue sauce. It's great with Carolina Pulled Pork, and excellent with grilled chicken. And fabulous with grill beef roasts like bottom round and chuck roasts.
Unlike many sugar based Bar-B-Q Sauces, you can use Stubb's Bar-B-Q Sauce as a mop sauce, and simply slop it on the meat while cooks, and serve more with the finished food. Most other sauces will burn and crust on the food, while Stubb's will soak in and add delicious smoked barbecue taste.
Stubb's Barbecue sauce gets it's name for the creator, C.B. Stubblefield. The main ingredients are Tomato Sauce, Vinegar, Molasses, Salt, Worcestershire Sauce, Natural Smoke Flavor, Garlic, Onion, Mustard Flour and 'Spices'. It does contain MSG – Monosodium Glutamate. Sodium content per 2 tbsp serving is 210mg or 9% of the USDA daily value.
Check out the official Stubb's web site for recipes, coupons lore, and more. Stubb's Bar-B-Q is made by a small Austin, TX company:
Stubb's Legendary Kitchen Inc
PO Box 40220
Austin, TX 40220
512-480-7804
http://www.ilovestubbs.com
Stubb's quote on the bottle is:
"FIRST OF ALL, you have to have the taste and the time. Barbecue is something you can't rush. That's the reason most people don't get it right. To be, barbecuing has also brought folks a little closer together, so enjoy it with your friends and family MY RECIPES are known throughout Texas and the world as the best in barbecue, and I've put my heart and soul into each one. With my picture on the label, and my recipes inside, you can be sure you're getting the finest quality available. Simply put My Life Is In These Bottles."