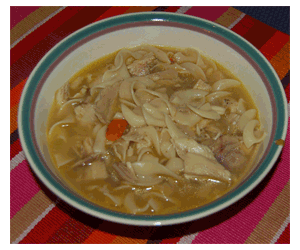 Old Bay Chicken SoupI stumbled upon this Old Bay Chicken Soup Recipe last week, and made it last weekend. For the most part, this is standard chicken soup 101. But the Old Bay Seasoning adds a special taste to the soup, and this recipe is a winner.
Anyone out there that is a short order cook or a owner of a mom and pop restaurant that's looking for a secret recipe for chicken soup should try this chicken soup recipe.
I made my chicken soup recipe using wide egg noodles. For some reason (and maybe because of canned Progresso soups), I feel that egg noodles are the noodles of choice with chicken soup. I also like chicken soup with matzo balls, and this recipe would be served just as well with matzo balls. Oh, and I always use fresh sourdough bread as a side with my chicken soups. Toasted lightly, and then lightly buttered, the sourdough has a natural affinity for soups (or at least I think so).